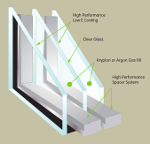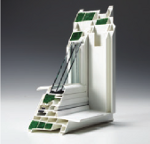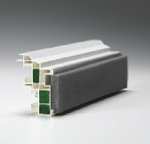 EcoTherm's DOE-R5 Glazing Package* is ideally suited to deep energy retrofits. With a best-of-class R5 factor, it outperforms all Energy Star and Federal Tax credit requirements by more than 30 percent, for comfortable living on a more comfortable budget.
Significantly reduce energy costs
Superior UV protection
Outstanding sound reduction
Outperforms Federal Tax Requirements by 27%
Outperforms Energy Star requirements by 31%
Insulated Triple Glass Unit
Double Low E Glass
Double Krypton or Argon Filling between the Panes
Exterior Frame Foam Wrap
High Performance Super Spacer

Efficiency. Economy. Ecology.
Krypton Gas Fill
At the heart of the EcoTherm design lies a triple-glazed core filled with Krypton gas. The gas is three times less conductive than argon. The added density of Krypton also slows convection between the panes, minimizing hot spots at the top and bottom of the window where heat exchange can occur.
A Better Framework
Few people realize how much heat is lost through window frames and sashes. With EcoTherm, however, that loss is nearly eliminated. All frames and sashes are formed from low-conducting PVC and filled with an advanced cellular foam that minimizes thermal transfer. This added barrier creates more comfortable living spaces and actually strengthens the window. It's a stronger, smarter framework for living.
Magnetic Appeal
Another key aspect of the EcoTherm design is a magnetic weatherstrip where the window meets the sill. Like the seal on a refrigerator door, it creates a nearly impervious barrier to thermal and air penetration, for one more level of efficiency and comfort.